Ask any psychic medium about Arthur Findlay College and immediately they giggle with excitement.  Located just an hour north of London, Arthur Findlay College is the world's foremost college for the advancement of psychic science. It's no surprise that it is popularly referred to as the original "Hogwarts." But, only if you ask a psychic medium, or perhaps a Spiritualist. To the rest of the world, it remains an institution clouded in mystery.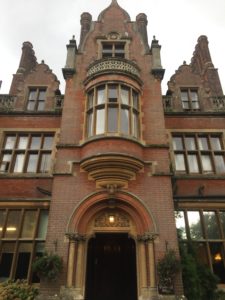 With Halloween on the horizon, it's the perfect time to share my personal experience at Arthur Findlay College (AFC).  I've just returned from an intensive course in Psychic Development and a Mediumship Bootcamp with Tony Stockwell. A long standing tutor at AFC, Tony Stockwell is certainly one of the top 5 psychic mediums in the world.
Each time I attend AFC, I'm always surprised at how the college remains in the shadows among the locals.  As always, I ask a taxi driver at Stansted Airport to take me to Arthur Findlay College. As if on cue,  he gives me the 'deer in the headlight' look.
No one I ask ever knows anything about it. This time was no different.  I said to the taxi driver, "You don't know it? Arthur Findlay is so famous in the world. It's the school for people who talk to the dead.  You know, psychic mediums."  The driver suddenly showed recognition. "Oh, you mean Spook Hall! Why didn't you say so?"
It seems the world has yet to catch up with the understanding that Arthur Findlay College is a highly reputable, accredited college with an illustrious foundation.  Here's an excerpt from the AFC website:
"Arthur Findlay College, Stansted Hall, was gifted to the Spiritualists' National Union by J. Arthur Findlay, MBE, JP, a former Honorary President of the Union. And in accordance with his wishes, is administered by the Union as a College for the advancement of Psychic Science.
The Arthur Findlay College offers facilities unequaled anywhere in the world in the Spiritualist movement as a residential center where students can study Spiritualist philosophy and religious practice, Spiritualist healing and awareness, spiritual and psychic unfolding and kindred disciplines."
There would be no Arthur Findlay College if it weren't for Sir Winston Churchill.
Many people don't know that it was Churchill who established the Spiritualist Church. He was a great believer in the afterlife, and psychic abilities. Throughout history seers and psychics have struggled to remove the veil of suspicion of it's origins being dark or sinister. Churchill "normalized" contact with Spirit, and psychic mediumship.  Therefore, Spiritualism thrived and was established as a religion in Great Britain. Connecting to Spirit was recognized as mainstream, relevant science.
Who Goes to Arthur Findlay College? Do I have to be a psychic or medium to attend?
Anyone can attend AFC. There are classes for all levels of students from novices to highly advanced professionals.  Many world famous psychic mediums attend. After all, Arthur Findlay is by far one of the best colleges in the world for psychic studies.  Naturally, the college attracts the best psychic mediums in the field. Personally, the people I've studied with have been astonishing in their abilities. Studying with such professional and highly talented psychic mediums from around the world is most humbling.  It is enlightening and invigorating as well.
Are you a beginner, or just curious about spirituality? Don't worry.  Classes are structured according to your level of experience.  Every student is properly placed according to their level of understanding. Full of choices, mini workshops and weekend courses are also available. Most professional students sign up for several sessions, each lasting 5-6 days per subject. My focus has always been on trance communication, psychic science, and mediumship.  There are so many areas of study from art to animal therapy. Check out their list of courses.  You will be dazzled.
Supernatural Events Happen When I Attend Arthur Findlay College

To describe all the mysterious, spirit driven events that I've witnessed at "Hogwarts" would fill a book. Most of these crazy stories happen at night, after classes have ended for the day. Each evening, there is either a demonstration of Mediumship by the teachers, or a special healing ceremony.  Sometimes there is an exercise where we all do something out of this world, such as table-tipping.
What the Heck is Table-Tipping?
I'd never witnessed it before, and it was wacky. Table-tipping involves a small group of people, usually 3-4, who stand around a table while placing their fingertips lightly onto the surface.  This past week, I witnessed 5 groups of students and teachers perform this exercise. As a professional skeptic, I wanted to watch closely, instead of participate in the exercise. Like Sherlock Holmes, I was keen on finding a flaw, or exposing a well performed trick. While I am a psychic medium, since birth, I remain cautious and realistic about the world of psychic phenomenon. There are a lot of fakes out there. Even though I love AFC, and am a returning student, I am still, and always will be, a skeptic.
First, the students stand quietly over the table, with their hands gently resting on the surface. They call forth the spirits. Then, after a few minutes, the movement begins. The tables start to wobble at first, and then they jump. Then they (the tables) literally walk around the room.
Watching the students perform table-tipping convinced me that it was absolutely impossible for the tables to jump across the room as they did, with virtually no assistance from the students. Now, their fingertips remained in contact with the tables, but from above, not below. They are not lifting the tables as one might imagine.  It was fascinating and curious. While it was proof enough for me that either spirits or the sheer psychic abilities of the individuals moved the tables, I didn't really understand the point of the exercise. Okay, so spirits can move tables. So what! Next?
Not to underestimate the fascination of table-tipping.  But,  I was much more impressed with what followed: the trance healing session, led by Tony Stockwell. Again, to describe full details would fill yet another book, so I'll keep it short. In a trance ceremony, the medium sits in front of the group and delivers important messages from spirit guides. In this case, the actual spirit entity uses the physical body of the medium to express itself.
Trance Healing, Like in the Movie "Ghost"
During the ceremony, the viewers watch Tony Stockwell's face change shape and form in such a way that you could actually see the different entities come and go, using Tony's body as a vessel.  In one exercise, Tony channeled the deceased father of one of the attending students. Let's call her Debbie.  Over the course of 5-10 minutes an emotional breakthrough occurred for Debbie, as she literally became a child again, weeping as she fell into her father's arms. Tony was the healer manifesting the spirit of  Debbie's father.  Tony gave Debbie a life-changing, transformational healing.
At one moment during the session, Debbie's body arched backwards in such a peculiar way it was almost freakish. Physically it would be impossible for her to arch backwards without falling, but she didn't. It was as if an invisible force kept her steady, holding her lower back as support. This event was miraculous indeed. Everyone in the college spoke about it for days.
Personally, I've seen many spirits while in AFC. Not only are human entities roaming about, but the nature spirits are alive and
well. Outside Stansted Hall, there is the healing tulip tree. Its magic powers have been recognized and felt by many, including myself. You can literally feel the tree's energy when you approach the trunk. If you want to learn more about how trees communicate with humans, I recommend looking into the research done by Heart Math Institute. Their scientific findings provide all the evidence we need that communicating with nature is a scientific reality.
Why Not Explore the Spirit World with Licensed Professionals
Whether you are just curious about the spirit world, or if you have a desire to cultivate your own innate psychic abilities, Arthur Findlay College is a perfect choice. AFC maintains a global reputation among professionals in the field for being a primary, professional institution for the advancement of psychic science. In a world where new thought, ancient wisdom is finally reconciling science and spirituality, AFC provides the perfect bridge between two worlds.