At some point along our journey in Earth School we ask: What is my purpose in life?
This is assuming we are emotionally mature enough to self-reflect. And not everyone is, unfortunately. Life is a journey and discovering your life purpose takes time. Sometimes it takes a very long time until the Higher Self demands self-reflection from the conscious mind. Then, the monkey brain either listens to the soul's calling and everything goes well, or all havoc and chaos breaks lose. You are thrown off your horse and the universe forces You to face You. This usually follows some kind of life crisis.
To Discover Your Life Purpose You Have to Ask Questions
The moral of the story is that it's better to pay attention to the 'meaning of life' questions.  At least put them on the table earlier in life instead of waiting for a crisis to appear. Start the process of self-reflection as soon as possible. Thirteen is a great age to start, and typically adolescents will naturally ripen to self-awareness if the environment supports learning and the individual is thriving.
Yet, consider that each soul blossoms for eternity. 
Like a divine flower, a fractal ever-unfolding, each soul is emerging in its own perfect way. So technically and literally, there's no rush to find the answers to the meaning of life when you consider the eternal nature of your soul.
But for now we live in the 3D. Focusing  on this dimension, there's still a lot to be said about the mega questions on life purpose and soul purpose. And not paying attention can bring on unnecessary hardships in life and relationships.  Let me share a personal story that just happened:
While filming a video on Life After Death, I sensed psychically that a crew member working on set was a serious non-believer.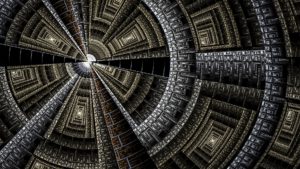 He was a true skeptic. I began to literally hear his thoughts while I was trying to speak. I also received a mental stream of images showing me his life experiences, his perspective on God, and the intensity of his belief system. It was a crystal clear download.  Spirit detailed exactly how this young man felt about his life, and his concepts of life purpose.
At a certain point I had to stop working. The severity of his atheism was such that I found myself motivated tell him directly, "You're a skeptic.  You don't believe in any of this, do you?" Of course he said "No." I sat down with Larry and we began a very long conversation about the meaning of life.
Larry was about to get married. It turns out this topic was something he had never discussed with his fiancé.  In fact, he and  his soon to be life partner had never shared a deep spiritual conversation together. That was a shocker for me. I can't imagine ever agreeing to spend the rest of my life with someone whose fundamental concepts of reality regarding the meaning of life were unknown and never discussed. That was the end of filming for the day.
It's Important to Talk About the Meaning Of Life
Instead this conversation took over.  I encouraged him to take special time to open up the dialogue with his fiancé as soon as possible. A dear friend of mine had married a man without ever discussing these fundamental beliefs. After a short time together, these spiritual issues surfaced.  Their relationship suffered because of these contrasting views. After five years of marriage they divorced, which was no surprise.
Ideally we all want to self-reflect, to go deep within and ask Spirit about our divine purpose. And, it's important to share those
beliefs with our loved ones.  It's fundamental to the soul's evolution and sharing promotes oneness. Certainly, this topic is critically important for life partners. And it should be part of every parent's dialogue with their children beginning at an early age. I began speaking to my children from the day they were born about their divine perfection and the eternal nature of their soul. (It's important, right up there with teaching kids to brush their teeth and reading to them every day.)
Here's the good news. You don't have to "discover" your life purpose. It will find You no matter what!  How do I know? Your contract contains the information already. That's the reason NDE folks often report being sent back to Earth school because: "They told me it wasn't my time yet." People who have died, and then revived back to life have provided thousand of reliable accounts. They report on soul contracts and life purpose.  It seems silly to deny their first hand experiences. Not to mention,  we have vast resources and teachings from mystics, spiritualists, seers, ancient shamanic traditions from around the world that corroborate the reality of soul contracts.
Don't Worry, Your Life Unfolds According to a Divine Plan
The time when Your Soul is ready to actually receive divine downloads will be unique and perfect just for you. It may come in youth, like it did for Lady Gaga, and other famous proteges. Or, it may come when you are 78, like it did for the famous painter Grandma Moses! For me, it only took 55 years!
*   *   *   *  *  *  *
Are you searching for your purpose in life? If the answer is yes, please subscribe. Next week I'll share my personal story of how I discovered my divine life purpose in Costa Rica.